Christmas is a month away!
Cue A Very She & Him Christmas on repeat (and the only way you should jam out to holiday classics), quoting Elf nonstop (Bye, buddy! Hope you find your dad!) and CHRISTMAS DECORATING!
(And I apologize for skipping over Thanksgiving but I have no desire to deck out my home with a giant inflatable turkey.)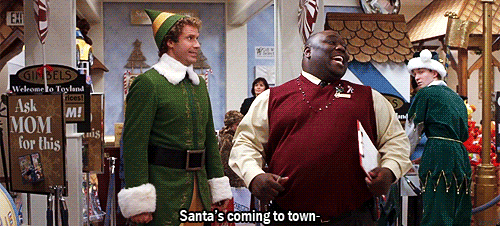 The Christmas Psycho (my self-given nickname) has already paid a visit to the Fernandez-Figueroa household (as it turns out, we aren't legally married yet and I can't change my last name. Living in sin, for the win!). Living room and outdoor lights are already set up (are you jealous, neighbors?)!
As I sat in the living room, admiring our beautiful tree and trying to figure out where to buy a tree skirt that doesn't require me taking out a loan, I noticed something peculiar about our Target "Merry Christmas" garland.
OUR GARLAND SAYS MERRY CHISTMAS! I'm not sure if I should keep it and be ironic or demand my money back. Either way, I dug through our trash (cold piles of chicken bones and beer bottles, if you're wondering) only to find that the receipt was in my purse the whole time.
Anyway, all this Christmas talk reminded me of the ever-growing list of people I want to buy presents for this holiday season and I find myself wishing, "If I only made a little bit more I could afford a present for so-and-so…"
Halston and I both make a decent living, don't have crazy debts to pay off and yet there I sat on the couch, feeling bad for myself because I can't afford EXTRA PRESENTS. Reality Check. Clearly I've forgotten the true meaning of Christmas: a little less consumerism and a little bit more Jesus.  Can I get an amen?
Take a few minutes today to enjoy the cool weather and give thanks for all you have! And make sure to follow me on Instagram and Twitter tonight while I document my stay at the Gaylord Palms and check out ICE! 
xx