Happy wedding week! Here's a blog that has nothing to do with that life event taking place on Saturday.
I woke up at 5:45 a.m. and almost considered sneaking into work for a little bit before anyone showed up, but I knew that as soon as I set foot in the building my coworkers would somehow be alerted and turn my happy ass back home, so I stayed in bed.
While checking my email, I got a LinkedIn Pulse notification (I love LinkedIn): "I Became a Trending Topic for the Wrong Reasons. Here's Why We need Peeple, the Positivity App I'm Building."
Julia Cordray, Peeple App's CEO, has been hard at work during the past week defending the app that was actually described as a "Yelp for Humans."
What is Peeple? The app was intended for rating people, "friends, neighbors, and ex-romantic partners the same way you would rate a business on Yelp."
I don't know about you, but the thought of an app that would rate me sounds like a nightmare. In the past (like most of us), I've crossed people and made poor decisions and I can absolutely guarantee that my review would not say "5 out of 5, would recommend." Still, that doesn't mean I'm a bad person. It just means I either made a bad choice or had a bad day. One online rating does not encapsulate all that Veronica is (actual awful person).
As it turns out, the app and the CEO received a lot of backlash because the world isn't ready for the Peeple App. We don't need another medium for online harassment, Cordray, but thanks for playing!
Some fun facts about online harassment:
40 percent of Internet users have personally experienced online harassment.
Young adults (and probably the target demo for Peeple) are the most likely demographic group to experience harassment online.
Half of those harassed online do not know who is behind it.
Social media was most frequently cited as the scene of online harassment.
Cordray decided to now switch up the app and make it into a "positive" app with the option to opt-in, -out.
"[…] This has always been a positivity app," she wrote this week. "Peeple will not be a tool to tell other humans how horrible they are. Actually, it's the exact opposite. Peeple is a POSITIVE ONLY APP. We want to bring positivity and kindness to the world."
That's interesting since this is how you were actually marketing the app last week:
"…it's important to know the negative too. I wouldn't want this app to just be positive. We want to know: Did he steal from you? Did she steal from you? Where they abusive? Um, do they have anger issues? Do they lie all the time? Are they narcissistic? I mean these are the things that I think are more important."
I'm not saying I stand behind angry and abusive liars who steal, but what was stopping someone from making up a review? But I guess I would change the purpose of my app too if I were getting death threats and harassed online.
So now the app serves no purpose. I don't need an app to let people know they don't suck.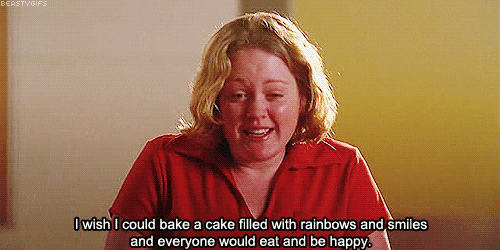 While we are on the topic of social networks, who else is super excited about the profile videos feature Facebook rolled out?
I am still unsure about what my profile video will be, but I can guarantee you that it will be something along the lines of that Dream Boat Hugh Grant's dancing on Love Actually.
What are your thoughts on Peeple?
xx